Ninteen years of rich history and hundreds of thousands of satisfied gaming and new technology enthusiasts - Poznań Game Arena is the most significant industry event in Central-Eastern Europe.
The history of PGA - from all types of games to a gaming paradise
Poznań Game Arena has a 19-year history, which we have built together with nearly 600,000 gaming enthusiasts from Poland and abroad, influencing the development of the Polish gaming and multimedia market. Since 2004, Poznań has become the capital of computer games, and our trade fair attracts not only tens of thousands of fans but also the best producers and companies creating the world of gaming and multimedia entertainment.

2004 - that's when it all began...
In 2004, for the first time, Poznań Game Arena saw the light of day, but in a slightly different form than it is known today, not only in terms of its theme but also its schedule, as the event started on Tuesday, April 20, and ended on Friday, April 23. In an area of just under 3,500 m2, computer games mixed with traditional games. To this day, we fondly remember the old Dungeons & Dragons textbooks with a tear in our eye ;)
The highlights of the program back then were the FIFA 2004 tournament and the finals of the Counter-Strike competition with unimaginable financial prizes for that time (12,000 PLN).
The event revolved around several themes, such as Mobile, Tournament, Skate, or Fantasy, creating a comprehensive offer tailored to the needs of active youth at that time.

2005-2009 - games, fantasy, and paintball
In 2005, PGA was officially divided into three thematic blocks:
Digital Arena - a block dedicated to multimedia entertainment, computer games, and modern technologies.
Fantasy Arena - a place for enthusiasts of card games, miniature wargames, board games, RPGs, wargames, chess, and bridge, as well as all forms of fantasy entertainment.
Extreme Arena - later changed to Paintball Arena, a block for fans of ASG, Paintball, and paramilitary reenactment.
Over the course of 4 years, the event grew rapidly, and it became clear that the block of computer games and multimedia entertainment attracted the largest crowds. Therefore, plans were set in motion to revamp the PGA trade fair in order to capture the hearts of all Polish gaming enthusiasts in the coming years.
During this period, the exhibition area expanded, the number and status of exhibitors increased, and prominent brands such as Intel, Xbox, Sony, Asus, and MSI showcased their latest innovations here. There were also more and more significant premieres: The Nintendo Wii pre-premiere in 2006, the world premiere of Colony 2106 on Atari in 2009, the pre-premiere presentation of The Witcher in 2008, and the release of the figurine version of World of Warcraft in the same year.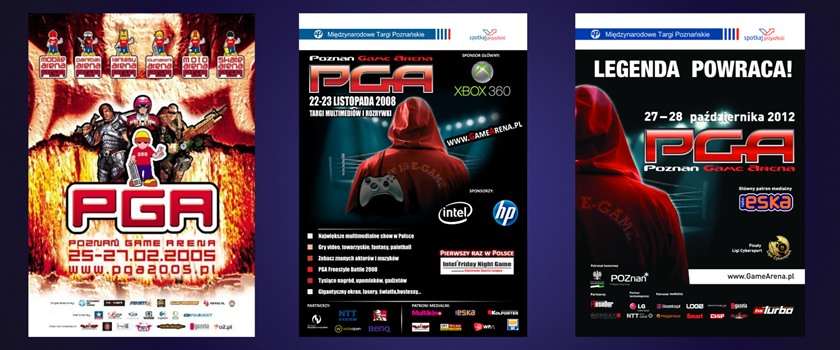 Two years of absence...
In 2009, Poznań Game Arena took place in Poznań for the last time as a trade fair divided into three independent thematic blocks. During this period, the PGA team organized the ON/OFF consumer electronics and video games fair in Warsaw in October 2010. This event allowed them to establish numerous fruitful business contacts and gain a deeper understanding of the market and players' needs. However, the organizers of PGA did not give up on their idea of creating the ultimate gaming event and worked on bringing the fair back in a grand way.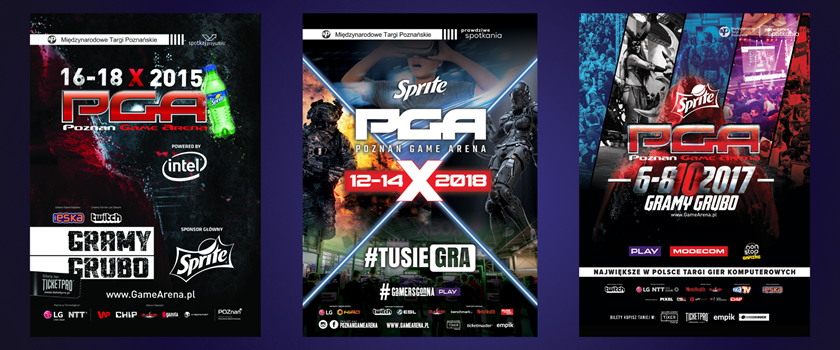 2012-2014 - a new beginning
After two years of absence and thorough preparations, Poznań Game Arena finally took place again in 2012 at the MTP Expo, in a spectacular form as the largest and most important trade fair in Poland dedicated strictly to computer games and the growing gaming market. 35,000 satisfied visitors could not be wrong - this was the right direction of development that needed to be continued.
Over the following years, the organizers worked on the event's growth and became convinced that October was the best timing for PGA.
2015 - 2019: Game Dev, Influencers, and Top-Notch Esports
Since 2015, the event gained two important program points that allowed for further development of the event and responded to the diverse needs of the gaming community and entertainment fans. 
Game Industry Conference (GIC) - a conference dedicated to game developers and publishers.
Stars4Fans - a meetup with influencers and YouTube stars, dedicated to a wide audience.
Since then, both events have become a regular part of the PGA program and have been evolving alongside the trade fair.
An important element of the current PGA editions is also esports, which has been accompanying the event from the very beginning. For several years now, PGA has been hosting championship tournaments and high-profile matches in games such as CS:GO, League of Legends, Tekken, Fifa, and Farm Simulator, with organizational support from international federations like ESL.
Cosplay is also a constant element of the Poznań Game Arena. Creators portraying characters from games and pop culture can be found at every edition of our event. For several years, we have been organizing the PGA Cosplay Show - a contest for the best costumes with attractive prizes from sponsors. In the last edition, we welcomed almost 500 Cosplayers!
2021 - present: Return after the pandemic
The COVID-19 pandemic had a significant impact on the entire trade fair industry. Thanks to hard work, in 2021, we managed to return to the Grupa MTP events calendar. PGA 2021, held under sanitary regime, was a positive exception and the only such large event in the world that took place in a stationary format.
A year later, the Poznań Game Arena trade fair returned in full swing. Top gaming brands came back to Poznań, and the event was visited by over 47,000 attendees.