EPIC GAME MUSIC, which is a completely new edition of the grand symphonic show, not only for fans of music from the world of games. The event requires a separate ticket.
AMAZING ARTISTS AND REPERTOIRE
On stage, the CoOperate Orchestra, conducted by the incomparable Adam Domurat, along with the Academic Choir of the Adam Mickiewicz University, and soloists will perform. The performers will mesmerize the audience with magnificent arrangements of legendary soundtracks from games such as Doom, Battlefield, Assassin's Creed, Horizon: Zero Dawn, League of Legends, Dragon Age, Apex Legends, The Witcher, Hogwarts Legacy, and many others."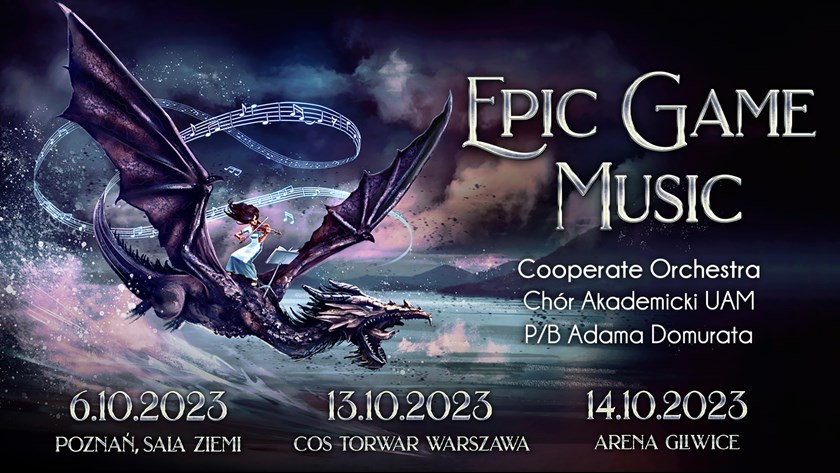 UNBELIEVABLE EMOTIONS
The auditory experience, together with excellent visual effects on a gigantic LED screen, laser lights, and special effects, will take us to a completely new level of emotions.
UNIQUE EVENING
If you enjoy intriguing musical combinations and a spectacular fusion of music and visuals, then this event is just for you. It will be an evening full of twists and turns, musical surprises, heroes, and stories of their fight for a better world and faith in goodness. You can't miss it!
Concert Date:
6th October 2023 – Poznań | MTP Earth Hall - the event accompanies Poznań Game Arena
This event requires separate tickets. Tickets for Poznań Game Arena do not grant access to the concert. Tickets for the concert can be found on the Visual Production website.
Tickets: www.visualproduction.pl